Although January and February are the coldest months of the year, spending time at an Ole Miss basketball game makes the perfect activity for a warm, family-friendly weekend! Come enjoy a mid-week game or a weekend in Oxford and you'll see why it was voted "America's Best College Town" by ESPN.
Cheering on the Rebs 
Several weekends line up to host a men's basketball game on Saturday and a women's basketball game on Sunday – get the most hoops in one weekend! In between games, you'll find plenty to do in Oxford to fill your activity cards.
Ole Miss Basketball vs. Memphis
Where to Stay
For a truly unique Oxford and Ole Miss experience, check into the Graduate Hotel, conveniently located on the Square. The Graduate pays homage to Oxford, Ole Miss and Mississippi's history and heritage including the Cabin 82, a coffee and breakfast bar that is styled after the Neshoba County Fair. Fun amenities include free bike rentals to whip around town and room keys that feature notable Ole Miss alumnus' student ids.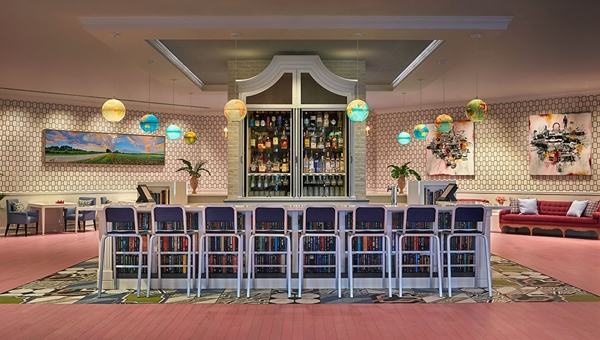 The lobby of the Graduate Hotel
Shopping
Do a little shopping on the Square and be sure to go by The End of All Music, an independent record store for all your vinyl needs. Check out the infamous Square Books, as well as their sister stores, Off-Square Books, Square Books, Jr. and Rare Square Books. Saturday mornings are a must at Square Books, Jr. where you can catch "Storytime with Ms. Jill" at 10am. Get your gameday gear at one of the many shops on the Square including University Sporting Goods, Neilson's or B-Unlimited. If you're shopping for children, stop in at OJK for their massive selection of adorable Southern frocks.
Shopping at Square Books
Eats
For a family-friendly meal, you're in for a treat on the Square. Ajax Diner is always a hit (kids can shoot toothpicks into the ceiling with their straws), South Depot will please even the pickiest eater, and if you're dining at Proud Larry's, ask for dough that the kids can play with while you wait on your food.
Ajax Diner
There are plenty of sweet treat options, too. The Oxford Creamery has ever-changing flavors of in-house made ice cream, but keeps kid-approved Milk and Cookies on the menu. For the yogurt lover, head to YaYa's and pile up your yogurt with their buffet of toppings. If you're looking for a non-frozen treat, Insomnia Cookies has you covered and you won't forget the Big'wich they offer!
Enjoying ice cream at Oxford Creamery
Outdoor Activities
Head to Rowan Oak, Nobel prize winning author, William Faulkner's home. Tour the house and then take a 20-minute hike through Bailey Woods that connects the home with the University of Mississippi Museum, which is free to visit and has rotating exhibits. Pat Lamar Park also has a great walking trail, as well as part of the Yokna Sculpture Trail you can check out.
The Bailey Woods trail